Click on the links below to download lesson plans related to positive character development, social skills, anger managment, and self-efficacy.
Based upon the Behavior Survival Guide for Kids (a description of the book is found below), these plans allow you to extend the material found in the BSG4K. They can also be stand alone as an informal curriculum for motivating students to display more appropriate behavior.
While the Behavior Survival Guide contains a multitude of activities, caring and competent educators expanded upon the text.  These kind folks have allowed their lesson plans to be placed here on BehaviorAdvisor.com for the gratis use of their colleagues… caring and competent professionals like you… people who care about kids with behavior challenges.
BSG Lesson Plans – Chapters 1-3  Introduction; What is BD?; Different kids, Different causes for BD; Why am I in a program for kids with BD?
BSG Lesson Plans – Chapters 4 Four smart choices for dealing with feelings.
BSG Lesson Plans – Chapters 5  Another smart choice for dealing with feelings.
BSG Lesson Plans – Chapters 6-8 Three survival skills for dealing with difficult people; Ways to help yourself make good choices in school; Ways to get along better with teachers.
BSG Lesson Plans – Chapters 9 Ways to make and keep friends.
BSG Lesson Plans – Chapters 10-12 Ways to help the adults at home help you;
Have you developed a lesson plan that matches the material in The Behavior Survival Guide?  If so, send it to Dr. Mac, and see it published here (with all credit given to you).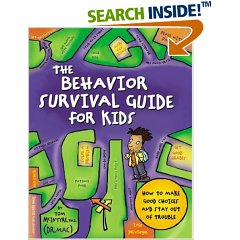 BEHAVIOR SURVIVAL GUIDE FOR KIDS:
How to Make Good Choices and Stay Out of Trouble
by Tom McIntyre, Ph.D.  (Dr. Mac)
ALSO AVAILABLE IN SPANISH, KOREAN, & CROATIAN! (see below)
*A self-help book designed for kids with behavior challenges, they can make use of the book independently (given a 4th grade reading level), or teachers/counselors can use the text to guide small groups of students who need to work on their behavior at home and school.  Parents will also find it helpful in changing their child's behavior for the better.
Kids who face behavioral challenges struggle every day—with their peers, teachers, parents, and themselves. Often, however, kids who get in trouble a lot don't know how else to act in those situations. Maybe they can state the behavior they should be showing, but they don't have any history of practicing these desired ways of behaving.  This book can help them make better choices that will improve their behavior and their lives.
THE BEHAVIOR SURVIVAL GUIDE FOR KIDS guides youngsters to better understand themselves and the problems their behavior creates.  In kid language, "Dr. Mac" describes what BD is (and isn't), the types and causes of BD, and special school programs for kids with BD.  He provides many strategies that kids can use to handle strong feelings and make positive choices.  Stories and quotes from real kids labeled as being behavior disordered let readers know they're not alone; "It's your turn" segments present activities for practicing these new ways to behave.  Kids learn to believe in themselves, take responsibility for their actions, make smarter choices, and enjoy the results of their better behavior.  The book includes a glossary and additional resources for kids, parents, and teachers. his page is under construction.
This book can be purchased at Amazon.com   There, you will also find other information and testimonials from parents and kids.
TRANSLATIONS OF THE BEHAVIOR SURVIVAL GUIDE
SPANISH McIntyre, T. (2008). Guia De Actitudes Y Comportamientos Para Ninos.  Available from the Ediciones San Pablo web site. (Spain).
KOREAN McIntyre, T. (2008).  Available from the Sigma Press web site. (Korea)
CROATIAN McIntyre, T. (2007). Ponasanje: Vodic Za Prezivljavanje. Available from Ostvarenje web site. (Croatia)